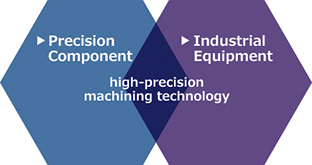 Ricoh Elemex, since its establishment in 1938, has been engaged in developing a wide range of products based on its high-precision manufacturing technology. Such Technology has been materialized in our businesses, information equipment and precision instruments, as well as components and parts for high-tech industries such as the aerospace industry.
Today, based on the management philosophy that "Impressing our customers with a focus on high precision technology", Ricoh Elemex is committed to become the world's most innovative manufacturing company. In seeking the higher reliability sustained with technology and R&D capabilities ahead of its time, we are putting our hearts and minds into the further improvement of our technology.
Ricoh Elemex will continue to pursue the technology innovation to contribute in creating higher customer value.